Idazten ikasten hasteko izan genuen aukera.
Mundua irakurtzeko.
Euskal Herria eguraldi mapatik, eguneroko errealitatera.
25 urte sortu zela, herri ekimenez. 25 urte ezagutu genuela. Eta hogeitik gora bertan lanean lehenengo eta idazten gero hasi nintzela.
Joxemi Zumalabek gidatuta, Zorion, Felix, Ramon, Gorane eta Montse gogoan. Ataxi eta Miriam. Xouse, Iñigo, Ines, Jabi eta beste asko…. zenbat izango ete gara?!
Lasarte, gero Andoain. Baiona. Gasteiz. Iruñea. Bilbo. Guk beti Bilbo.
Barkatu, ama! 1995. urtean Jon Eskisabelen ardurapean. Idatzi eta idatzi. Zabaldu. Gozatu. Landu. Gehiago ikasi. Gozatu.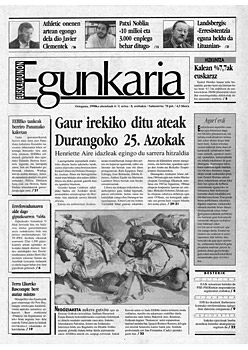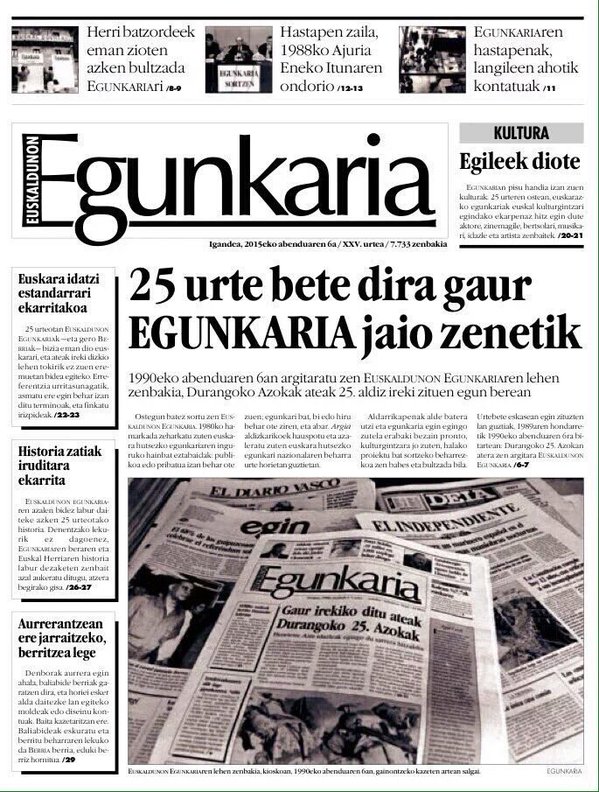 Idatzi nuen kulturaz, politikaz, nazioarteaz, ekonomiaz, bertsolaritzaz, musikaz asko, eguraldiari buruz inoiz, futbolaren gainean Athleticek -gutxiago galtzen zuen orduan- azken orriak, eskaner berriak ezagutu, zuribeltzetik kolorera pasatu ziren argazkiak, nire portatilarekin batetik bestera be ibili nintzen batzutan -erredakzioan oraindik ez zegoelako horrelakorik, besteak beste-.
Irrati kronikak egin izan nituen egin irratirako Egunkariako bulegoetatik, eta konplizitate harreman eta sare maitagarria sortu genuen. Besteak beste.
Eztabaidatu ere egin genuen, eta iritzia eman, eta ordaindu. Eta kobratu. Eta pozik eta triste. Eta tristeago. Eta gero pozik. Eta orain gogoratzeagaz batera…. mundu oso bat datorkit burura. Hori guztiori be bagarelako.
Zorionak EGUNKARIA!
BiBA ZUEK!
loturak:
ARGIA

Euskarazko egunkaria aldarrikatzetik egitera
Ni Mikel Elorza naiz. Eta zu ez. https://t.co/PF8Wn0braQ Paparrean ez dakit, bihotzean bai. BiBA ZUEK! @berria @armiarma @durangokoazoka

— gaztelumendi |l*l| (@iPatxi) December 8, 2015